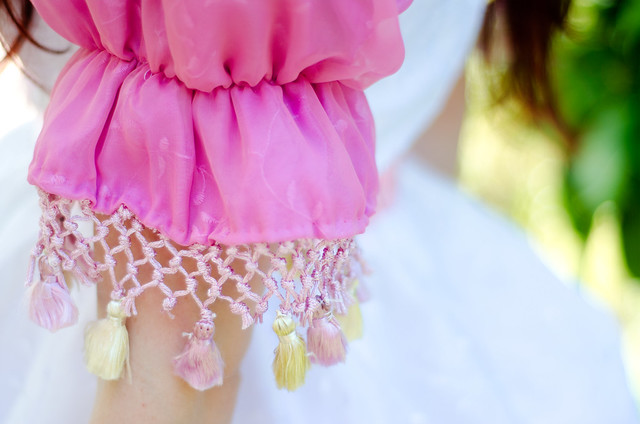 Also known as a confection in nine layers.
You guys, I finally got to photograph this dress (read: I dragged Seester out of bed while she was trying to nap and made her take photos of me) and I'm so excited to finally share it! I've been planning this dress ever since the first time I watched Shindig and the tiniest flicker of "Ooh maybe I should make that someday!" crossed my mind back in 2006. Then there was that time in 2007 when idiot me decided to try to make it in what was essentially quilting cotton. That was actually quite comical. I think I got about two ruffles in when I tried the skirt on and realized it already weighed ten pounds. Yikes!
Anyway, it's done! The nitpicky perfectionist in me is twitching slighting and wanting to trim 1.5″ off the peplum and add a ribbon trim but I'm trying to smother her with pillows and shut her in an attic closet somewhere.
Since there are so many parts to this dress I thought I'd briefly share how I did each section.
Bodice: 
You're going to laugh at me but remember in this post when I mentioned that to date I'd only made one successful By Hand London Elisalex? Well this was it. No joke. Obviously I altered the neckline a bit but that's the pattern I started with. I raised the neckline significantly and then cut a slightly curvy V-shape. For the fabric I used some sheer white floral organza over a layer of white rayon challis, a layer of muslin for thickness, and then a layer of this crappy lining fabric that I sort of hate but was the right color. To get the ruffly/pleated look in the front, I basically used the same technique as with this dress to cut out the pattern piece, but then instead of tiny tucks, I just pinned down the pleats, ironed them in place, and then basted the sides down to the rayon challis and muslin and treated it all as one pattern piece.
I used pink organza ribbon (2-3 layers I think) for the pink stripe down the middle and then just sewed white buttons on top of them like a false button placket. The "belt" is also wider pink organza ribbon. There's also some pink lace trim along the neckline that I hand-stitched in. The peplum was done the same way as the rest of the bodice and was self-drafted by cutting out two curved trapezoids, and then cutting the back in half to accommodate a zipper. I measured the width by making the top edge of each trapezoid two times wider than the lower bodice edge it would be attached to in order to account for gathering. The back of the bodice is just held together by an invisible zipper.
Sleeves:
The sleeves were a bit tricky! First I kept drafting puffed sleeves that were too small. I still think they could be a touch more dramatic but whatever. Then I couldn't get them the right color. I couldn't find the sheer floral organza in the right shade of pink so I decided to dye them, which led to a wonderfully fun (and smelly) adventure of polyester fabric dye. It actually worked great except that the pink dye I bought turned out to be a more purply fuchsia that made the rest of the dress look orange. Ruh roh. So I tossed that idea, cut out new sleeves in white, and decided to sew a layer of the same pink chiffon used on the bottom tier of the skirt as an overlay over the white organza. You can still see the floral detail and they match the rest of the dress perfectly. I have no idea why I didn't think of that first.
The chainette fringe thing was hilarious. I bought this fringe on ebay and then proceeded to watch all the youtube tutorials to knot it by hand. At one point I had it pinned to my pants and was trying to keep it even while knotting. In the end it was easiest to just pin it to the sleeve (which was at this point already attached to the bodice) and do it standing. The little tassels were harvested from a heinous upholstery trim that happened to have gold and pale ivory tassels. I had tossed the ivory ones in the pink polyester dye and luckily they didn't turn out totally fuchsia. I sewed those on by hand, not terribly gracefully but I'm pretty happy with the effect.
Skirt:
This thing was straight up madness. I can't even. I have a notebook somewhere with pages of scribbling as I struggled to do the math required to even figure out how many yards of each color I needed. I basically made a gigantic floor-length circle skirt out of a lightweight cotton, and then marked rows where each tier would go. Each tier consisted of sewing down a 7″ tall strip of hand-gathered tulle, then sewing down an 8″ strip of hand-gathered chiffon. I used poly chiffon so I just burned the edges to prevent fraying because the idea of anything else would've made me cry tears.
Once all the tiers were sewn down I put a zip in the back and we were good to go!
Hoopskirt:
I read like ten tutorials on how to make a hoopskirt and sort of cobbled together my own method. I knew I didn't want the hoops to be attached to another skirt because it was already going to be a lot of fabric so I opted for a hoop + strips of fabric method. I was originally going to make a tutorial on how to do it but honestly it turned out looking not so pretty so I'm pretty sure no one should use this method haha. I basically used this tutorial except I used thick twill tape instead of fabric and had no way of stabilizing each inserted hoop where it was supposed to go so the hoops kept sliding around and not staying put. You can kind of see what I'm talking about here and here.
I used about 10 yards of plastic tubing from Home Depot (the kind that was 5/8″ outer circumference and 1/4″ opening). So yeah, the intersections of where the hoop meets the fabric/twill tape need to either be drilled down in place or staple-gunned or something. The tubing itself was great though. It was strong enough to hold its shape as a hoop but super lightweight. Since I didn't want to spend $5 per tube attacher-thingy, I just cut up two 2″ strips of plastic boning, inserted it into one end of the tube, attached the other end of the hoop, and then taped it closed. It worked surprisingly well! Boyfriend hardcore doubted me. To be fair, it looks quite janky but again, I don't recommend following this tutorial unless like me, you were three days from needing this dress to be poufy and had no other options.
So anyway, WAHHH it's done!! I can't wait to wear this while I watch Shindig. I'm not remotely joking.
Sidenote: It just occurred to me that the hands-outstretched-with-fruit is highly reminiscent of the covers of a certain sparkly-undead-teenage-abusive-relationship story that will remain unnamed and now I can't unsee it. GAH. I just needed to incorporate strawberries somehow and a banquet hall buffet table seemed unreasonable. How will we know unless we question it!