both tops: self-made, tutorial here // shorts: AE
Reasons why this is the perfect top for summer:
It takes like 30min to put together. No joke.
No bra necessary. The ruffle conveniently hides everything. (Ok, to be fair ladies with a certain amount of boobage might not be able to get away with that as comfortably. I've also worn these with a fun strappy sports bra and that looks cool too.)
It's SO comfy. I was a bit apprehensive at the whole elastic sitting at the shoulders thing but it's so breezy and nice and I got used to it after wearing it once.
Did I mention it literally took 30min to sew? I want one in every color.
Sidenote: I made the blue one first and did it exactly as indicated in the tutorial, except I made it cropped instead of a dress. Since the black one is made of rayon challis and much drapier, I used more fabric and flared the edges of the bottom part outward like a trapezoid to get even more volume.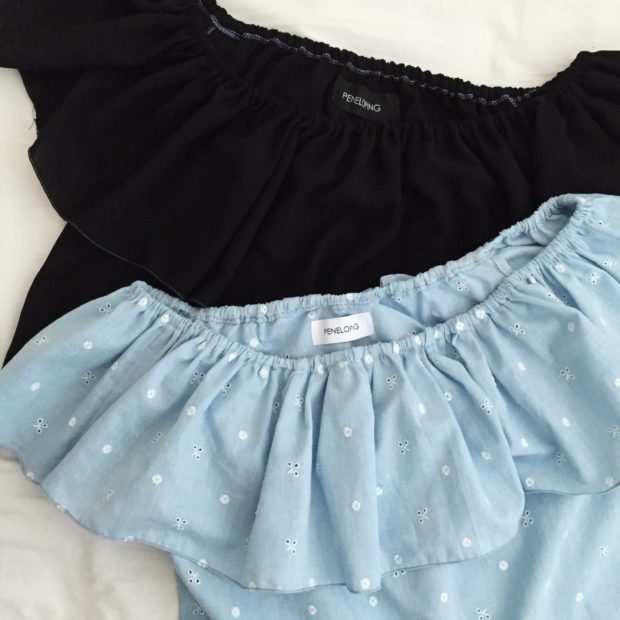 Another thing I played around with was doing a rolled hem around the edge of the ruffle. I took a serging class this summer and managed to break my upper looper about an hour into the first class. I debated getting it fixed but it was kind of a dinosaur and we'd never been friends so I decided to buy a new one instead. I ended up getting a basically new Juki MO654DE (thanks to Heather's awesome review) on eBay for half the price (win!) and I can't even begin to describe  how much I love this machine. I'll do a review of it soon along with some fun things I learned in my serging class.
Anyway, next I want to make a dress version. And maybe one with a more fitted bodice. Yee!