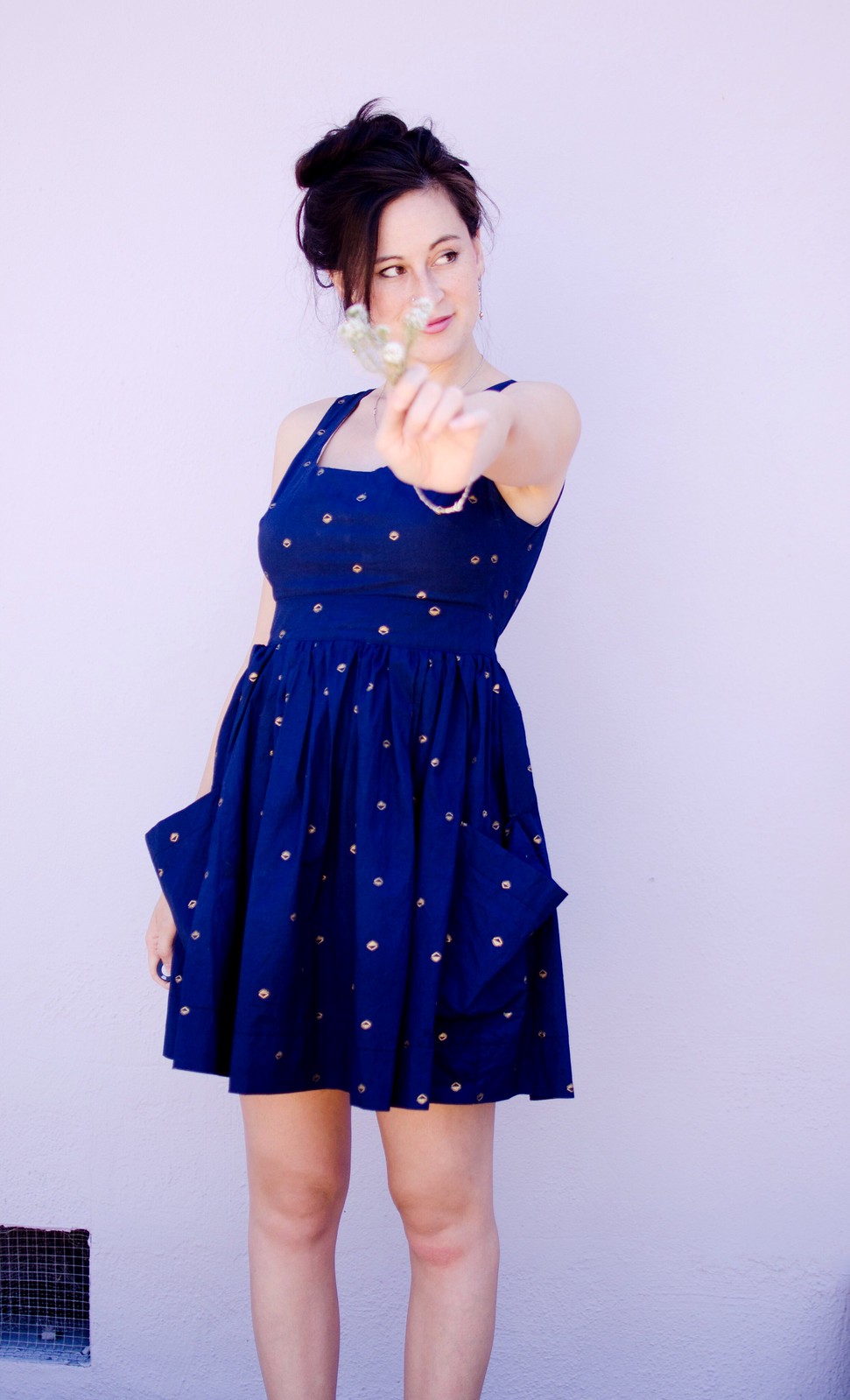 About a million years ago I bought this dress at Forever21. It was a cute little cotton floral dress with a lined bodice, back cut-out, gigantic pockets, and pretty wooden buttons along the back. It fit me perfectly and was the perfect comfy summer dress. Or the perfect dress for picking flowers and/or berries. I had to really resist making a flower crown for this post.
Anyway, over the years I've gotten rid of every other Forever21 purchase but I could never seem to let go of this one. I had this idea that I was going to try to make more of them but it never really seemed to happen. Then this summer I took a Copying Ready to Wear class at school. I decided to use a coat as my class project so I could learn all the more difficult stuff, but as soon as class was over I used the same techniques to whip up this dress. (And then immediately made a second one, and started a third. More on those later.)
I used this Cotton + Steel fabric (I actually ordered it from Craftsy but they don't seem to have it anymore) and it's so so so perfect. It's got the great crispness of cotton which is perfect for all those gathers and the pockets, but it's a lawn so lightweight and doesn't look like it's made of quilting cotton. Insert heart eyes here. And then there's the buttons!! I knew I wanted wooden ones but I was in one of those situations where I wanted the dress to be done RIGHTTHISMINUTE so I could wear it, so I only had time to go to Joann's. The only ones they had that were wood and big enough were these stupid square ones. Except then I realized if I turned them a bit they became diamonds and suddenly they fit perfectly with the print. *squee*
The nice thing about this technique for copying RTW garments is that you don't actually have to take the garment apart. It can be rather time-consuming though, so you do want to make sure you're putting all the work in for a garment you'd actually want to wear in the end. The super simplified gist of it is you mark grain lines on the RTW garment with thread, then use marked silk organza and about a million pins to trace seam lines and darts. Then you transfer those to tissue, true up your lines, and you've got a pattern of your RTW garment.
If you're interested in the more in-depth version of this, the book we used in class was "Making Garments from Existing Garments" by Kenneth King. It's fairly in depth with lots of photos which makes the process pretty easy to follow. I believe his Jean-ius class on Craftsy uses the same technique if you're a more visual learner. And of course, if you're in the San Francisco Bay Area, you should just hop over to Canada College and take the class with Lynda Maynard because she's fantastic. (Although I'm not sure if it's offered every summer. Might be every other summer.)
In other news, these are my new favorite pockets and I want to add them to cardigans and other full-skirted dresses. You basically just cut them wider at the top edge than the bottom edge (like a trapezoid), but then stitch the side seams parallel so the excess from the top edge falls away from the garment.
Now excuse me while I go find some berries to pick. I have a sudden blackberry craving.