dress: self-made, pattern here // shoes: Chelsea Crew
So a few weeks ago I was catching up on Mad Men and saw this dress.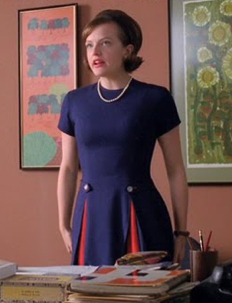 And then Julia Bobbin announced yet another Mad Men Challenge. Um, yes please!
So then I had to figure out what pattern I wanted to use and whether I wanted to go woven or knits. At first I was thinking of using a wool blend and one of my go-to patterns, but then I realized I had the perfect double knit in navy and scarlet and that my trusty Lady Skater would be perfect!
I made a few adjustments as usual (omitted the neck band, shortened the sleeves, added the waist tab thing and the skirt panels), and I actually took some photos for a tutorial post I'll put up later this week.
And as an added bonus, if I ever go to see a Barcelona soccer game, I'll be all set in the wardrobe department!