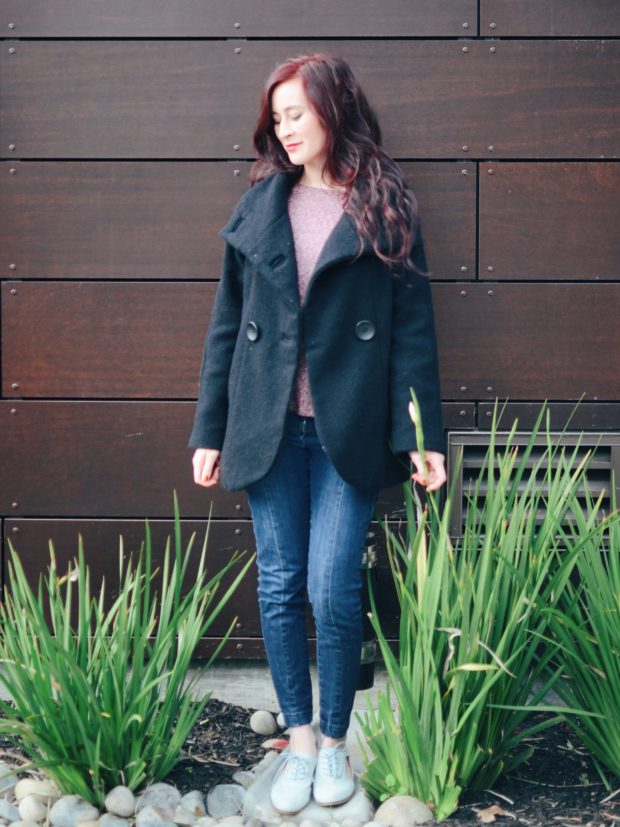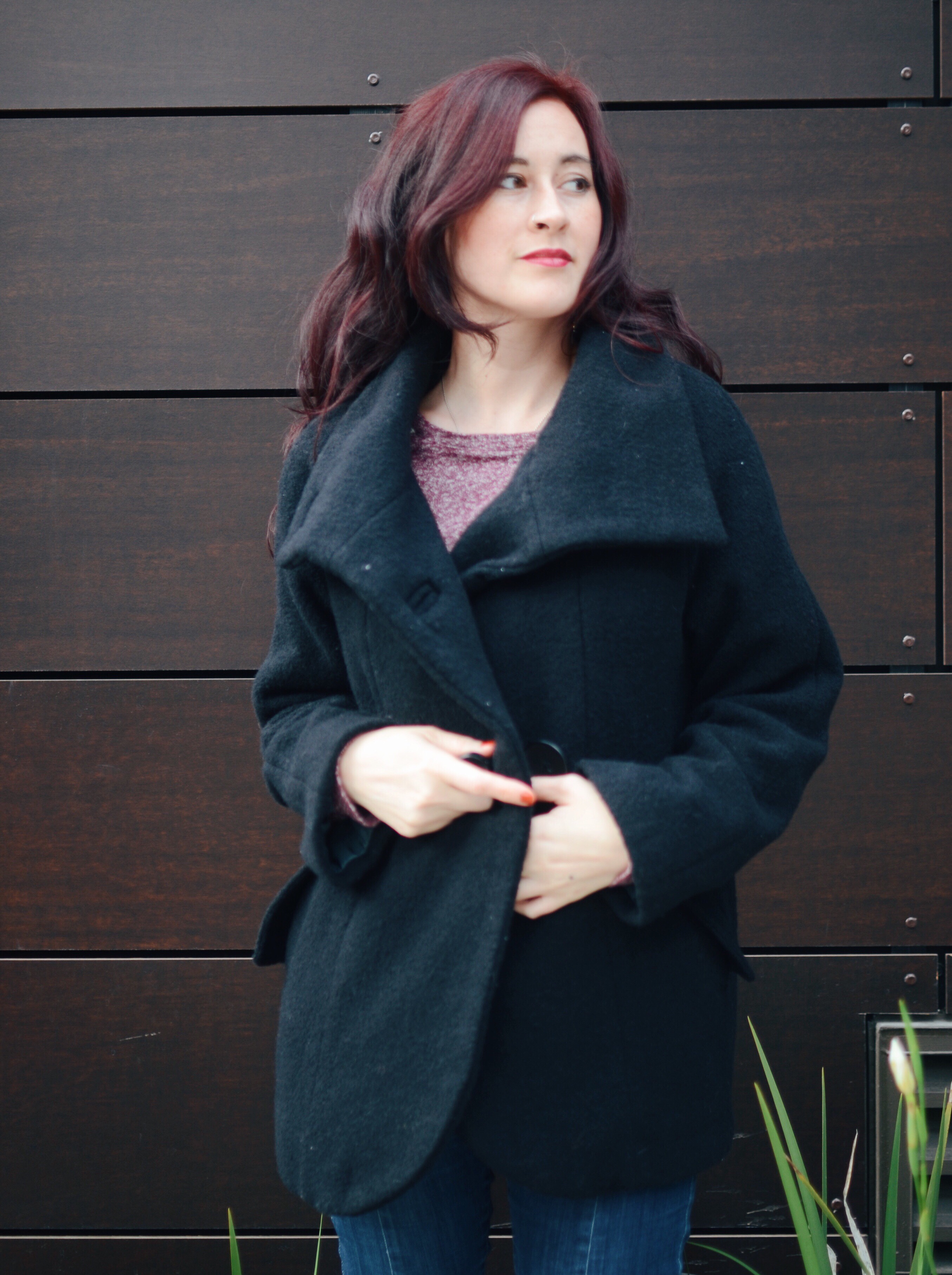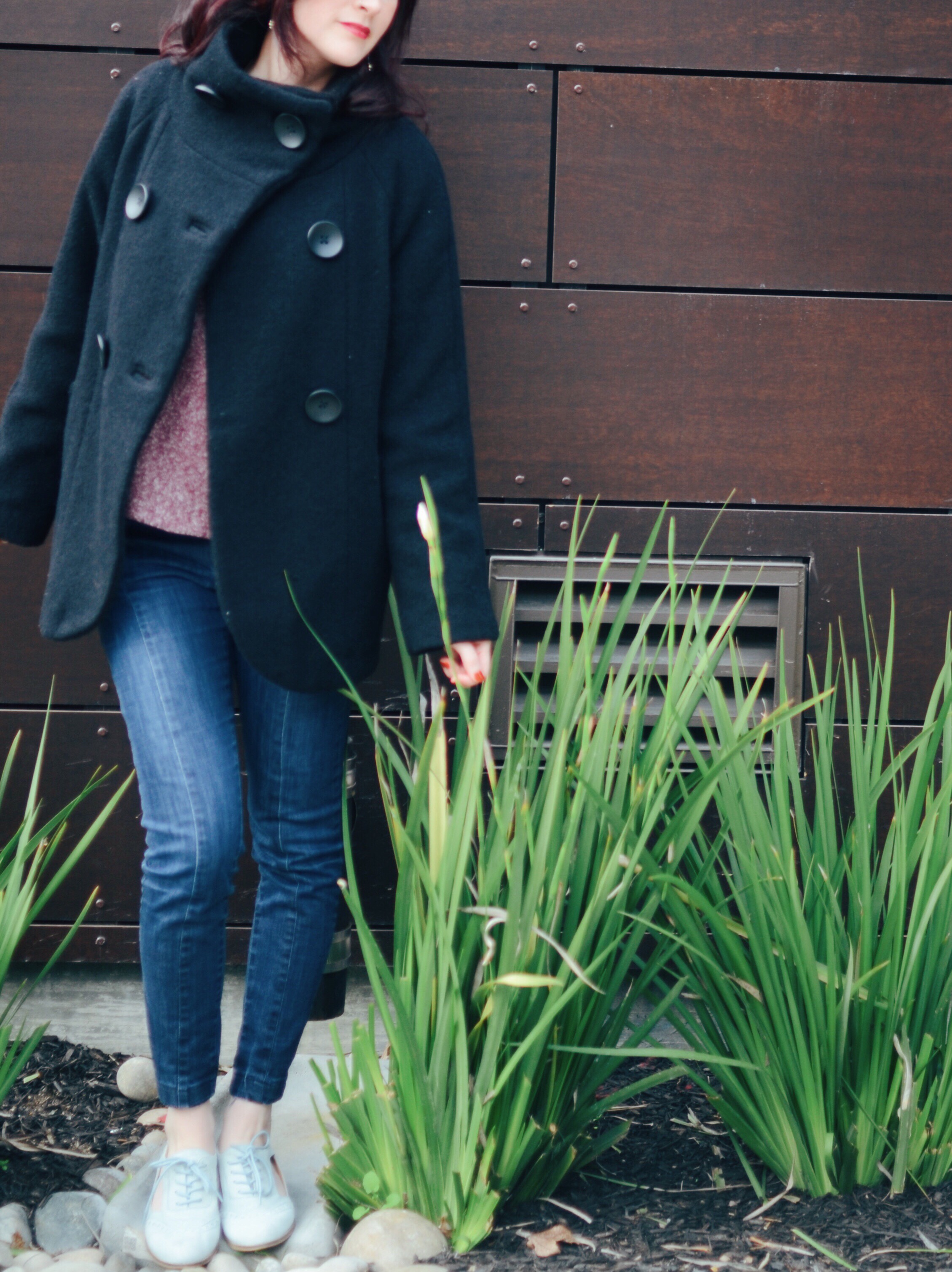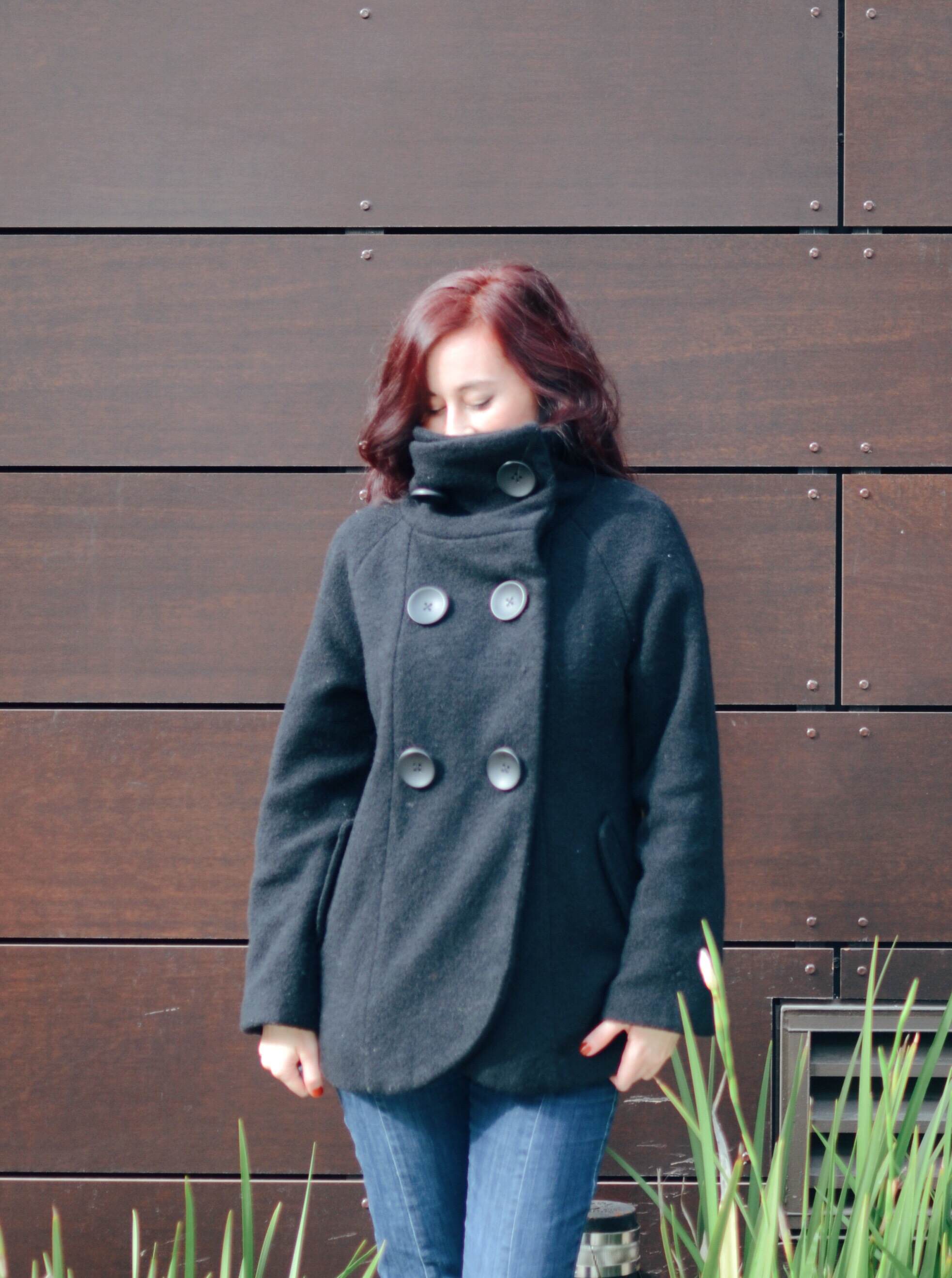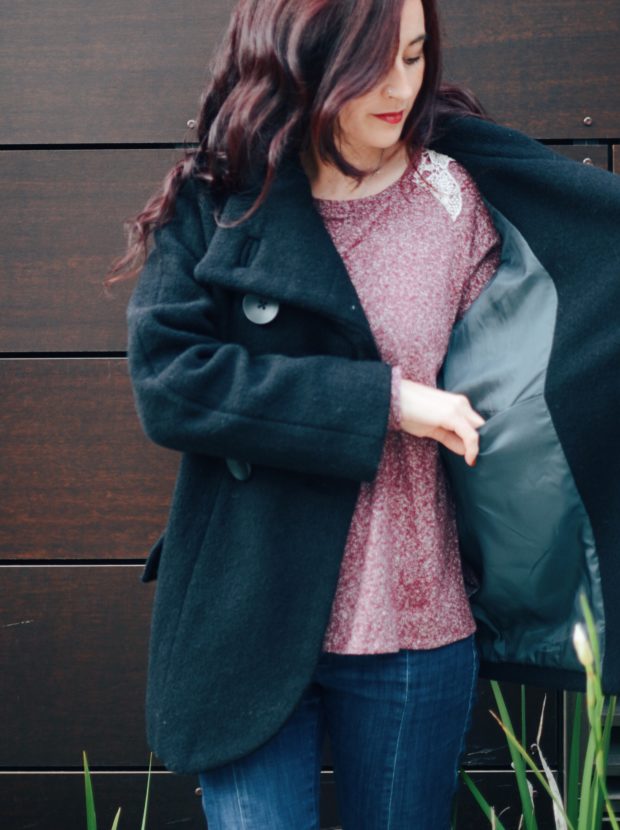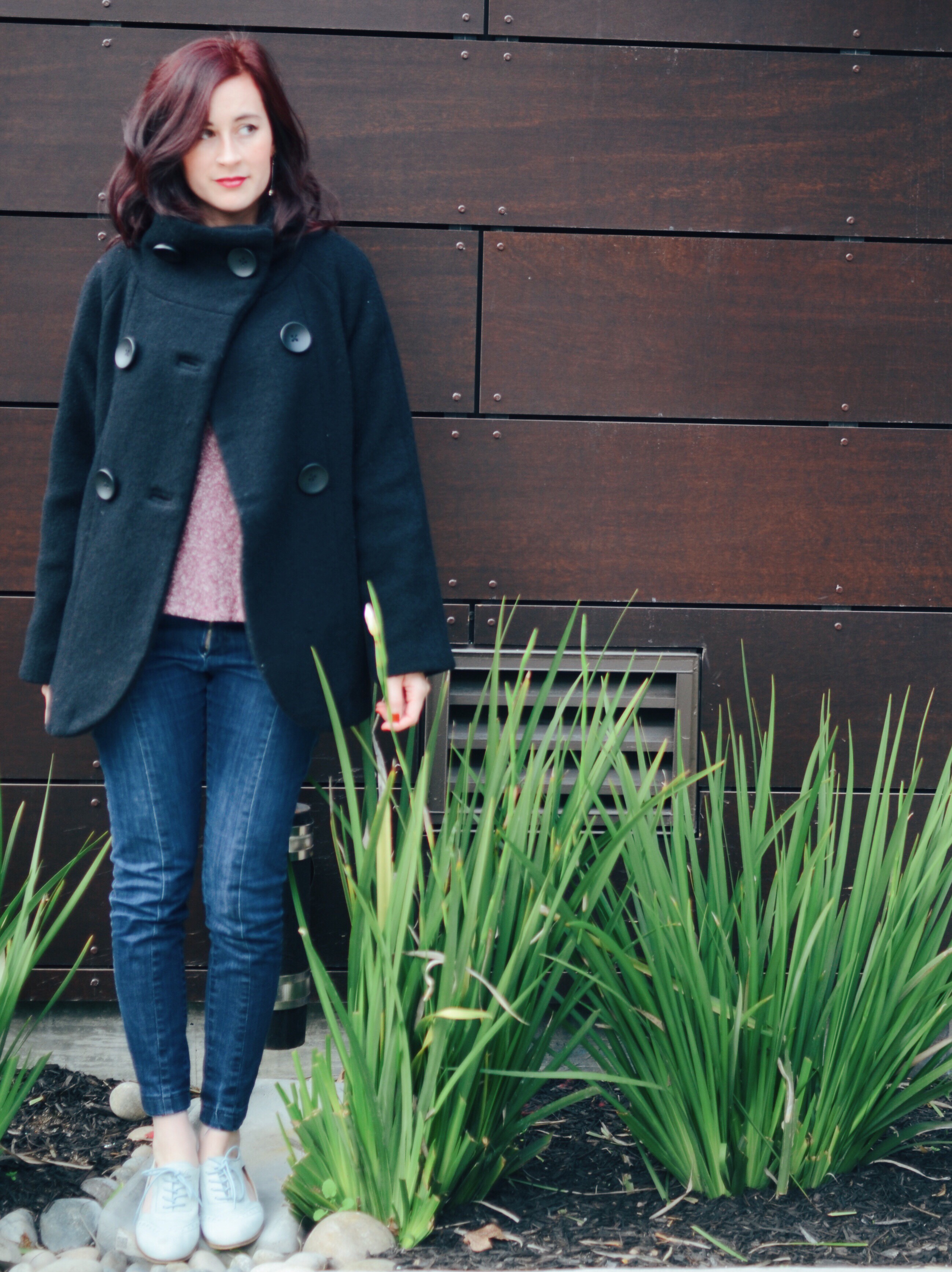 Coat: Yuzu size 38 // pants: Jamie jeans
I'm quickly becoming a Waffle Patterns fangirl. First there was the Tosti jacket that fit me perfectly with zero alterations, now it's this wonderful wonderful coat.
I had originally imagined it in an oatmeal color, but the only oatmeal wool I could find seemed like it might be too loose a weave. Then I magically happened upon some black boiled wool and black cotton flannel in the "free stuff" pile at school and it seemed like it was meant to be. All I had to buy was some Bemberg rayon for the lining and 6 gigantic buttons.
Maybe this is a remnant of living through four Boston winters, but I wanted this coat to be gigantic and heavy and warm. I cut some scraps of the wool, muslin, and black flannel, and overlapped them in different combinations to decide how to underline it. I ended up going with black flannel underlining on all the pieces except the collar and front overlapping pieces. Those were underlined with muslin because I wanted the collar to be a bit softer and I thought two layers of cotton flannel plus four layers of boiled wool over my boobs sounded excessive.
I also looved the flap pocket option Yuki added. They were pretty easy to put together too! I made thread chain "leashes" at the bottom edge of the pockets that attach them to the bottom of the coat so they don't wander. I also decided to add inside lining pockets by basically cutting that lining piece in half and adding seam allowances and a pocket bag into the seam. I had meant to only do it on one side but was on autopilot and cut two layers of fabric so I figured, why not both sides?
Anyway, I've been living in this thing. It goes with dresses as well as jeans, and is so easy to just throw on. I think I do still need an oatmeal version.
How many coats is a normal and acceptable amount of coats? Asking for a friend..