*drum roll please*
The winner of the Tap shorts giveaway is…..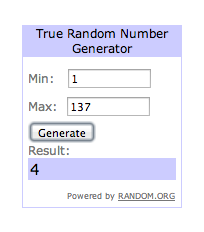 Congrats to Kat H! You'll be receiving 2 yards of luscious cotton/linen polka dot fabric from Grey's, 2 coordinating zippers, thread, interfacing, and a pdf of the Tap shorts pattern. I have faith in your welt-pocketing abilities!
Please contact me to receive your prize. And thanks so much to Katy & Laney for the awesome giveaway!
If you didn't win and are still lusting over this fabric (for which I would totally not blame you because I'm totally eyeing it in a Gollum-esque manner and might go snag some for myself..), you can find all of these items at Grey's Fabric and Notions. And the Tap shorts pattern can be purchased here.