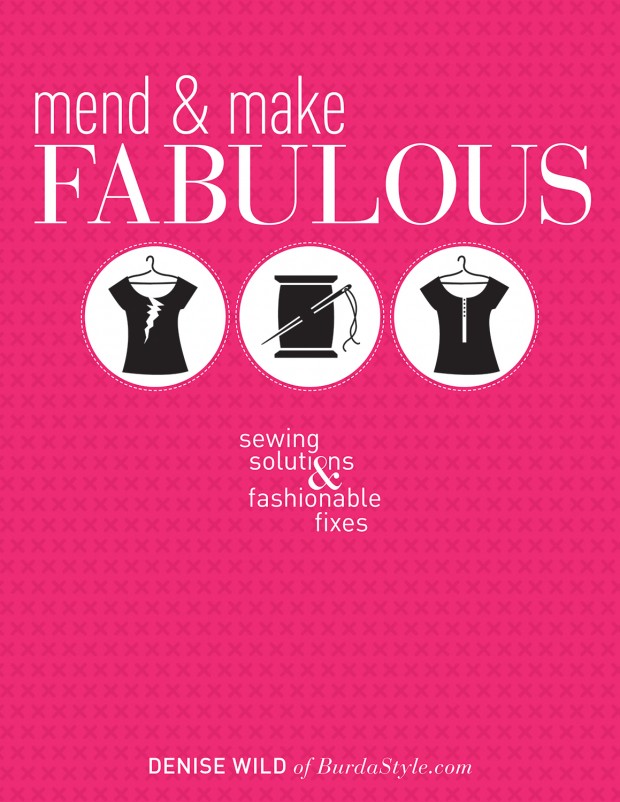 Mend & Make Fabulous by Denise Wild
Interweave/F+W Media; $19.99
Interweave generously provided a copy of this book for me to review, but all opinions, thoughts, and verbal drool-age are my own.
I saw a meme recently that was something along the lines of comparing asking a seamstress to mend things to asking Michaelangelo to paint your garage. I lol-ed but let's be honest. We all have a stuff-that-needs-mending pile and if you're like me, it just keeps growing. Mending is generally much less interesting than picking up a shiny new project and lots of what's in my mending pile is stuff I have no idea how to fix and am kind of in deniable about its salvageability but can't bear to part with it yet.
But then Interweave sent me this book to review and I basically fell off my chair. (Ok, who am I kidding, I was reading this curled up in bed.) First of all, it's written by Burdastyle's own Denise Wild. (She was actually on the Today show last week, which you can see here!) Secondly, the photographs are absolutely beautiful. Like the vintage dress in the photo above. And this adorable pink dress so full of twee I just want to wear it to a tea party with eight kittens wearing mary janes. (I'm not joking.)
Denise divides her book into categories (e.g. hems, closures, rips, etc.) and each section includes detailed photographed tutorials on how to mend that type of issue/area as well as ideas of how to make garments even more fabulous.
Now, I don't know about you guys, but there are some garment-related issues that I've always assumed were un-fixable. Like if you tear sheer fabric, you're basically screwed. And if your jeans stretch out throughout the day and end up sagging down your butt, you should probably look into different jeans. But no, Denise has the answers.
And her DIY (or MIF, for Make it Fabulous?) ideas have all sorts of wheels turning in my little creative brain. I'll be honest, I did not expect a book on mending to be such a huge source of inspiration but I've got several tutorials earmarked to try. Like this lace applique tutorial! I'm thinking of a peplum top with a lace applique collar. And I have a pair of cute denim shorts that are getting to a level of scandalousness that is a bit NSFW that I could add some lace to the bottoms of! And then this bleaching tutorial! Gah! Do you see those leggings in the top right??
On top of all that, the styling in this book is just beautiful. Even as I flip through random pages my little copycat-ing brain keeps twitching. Ineedthesecoats. Actually I'm pretty sure that entire navy coat outfit needs to be mine.
Anyway, excuse my drooling. Interweave is very kindly offering a copy of Mend and Make Fabulous to one of my readers! Just leave a comment below telling me your worst garment tearing/damaging/destroying/mending-absolutely-required mishap. Make sure you include your email so you can be contacted about receiving your prize!
The giveaway will be open until midnight Tuesday, April 15th and the winner will be announced shortly after.
[CLOSED]