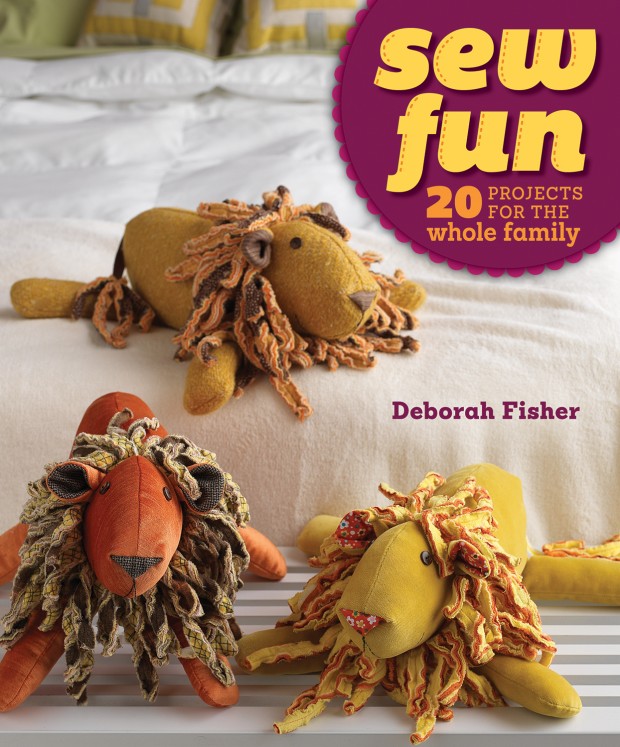 Sew Fun by Deborah Fisher
Interweave/F+W Media; $26.99
When I was little I was always doing various craft projects. One year my family spent a summer in Beijing living in a hotel and boredom led to my creating an entire wardrobe out of tissues for my various Barbie dolls. Spoiler alert: there were a lot of capes and togas. Then there was my teddy bear that I hand-stitched from curtain scraps and embroidery thread when I was six. At some point I will find and photograph my first crochet project, which is an amorphous, mostly orange with blue and turquoise accents vaguely-oval shaped ripply blob. Seven year old me had high hopes of it turning into a skirt somehow. And then at fourteen I started my LotR-inspired collection of elf couture. When I think back to my childhood it feels like I've always been working on something.
When Interweave Publishing contacted me recently about reviewing a new book on crafting with kids I pretty much died of cuteness overload as soon as I saw the cover. Yes please! (Note: Interweave provided me with a copy of Sew Fun; all opinions and rambling anecdotes are my own.)
Sew Fun is Deborah Fisher's creation as a way to engage kids in crafting. The book is divided into sections based on type of crafts: dress-up projects, stuffed animals, playtime accessories, and home and party decorations. Each project is designed with tiny humans in mind and includes a section of suggested tasks for kids.
My first impression after flipping through the book is that it looks like Anthropologie for kids. Like check out this amazing storybook play blanket. It's two-sided, for daytime and nighttime. Is it ok that I want to make this to put on my wall??
Also this bunny is happening. I don't even care that I'm 27. I need an army of these little guys.
This quilt would be a great way to show-case those cute prints that we dress-making addicts sometimes buy because it's a cute print and then don't know what to do with it because it's not really wearable. We all have a bunch of those in our stashes, don't lie.
There's also a plastic insert in the back with pattern pieces printed on lovely paper (not as thick as Megan Nielsen patterns but not the gross super-thin tissue stuff).
Deborah talks about safety tips, craft ideas, and sewing techniques, and and gives lots of suggestions about how to make crafting fun and engaging for both kids and adults. She says specifically that this isn't a book for kids, but a book meant to bring out the inner child in grown-ups and to involve kids in the process.
The best part is that Interweave is generously offering a copy of Sew Fun to one of my readers! Just leave a comment below telling me your favorite memory of crafting as a child.
A winner will be randomly selected Sunday, March 23rd and announced shortly after.
[CLOSED]