dress: self-made // shoes: Seychelles // tights: F21
Everyone, meet Birthday Dress!
I've been so excited to share this and I pretty much ran right upstairs to take photos within three minutes of the last stitch. Did I mention it's about 30 degrees outside? I had a severely runny nose by the end. Yikes.
Anyway, I can't remember where exactly at the moment, but I saw this dress a few weeks ago (probably on Pinterest, actually) and decided right then and there that it was going to be birthday dress. I already knew I would use McCall 6646 and figured the black fabric wouldn't be too hard to find, so I went to work looking up what types of beads to use.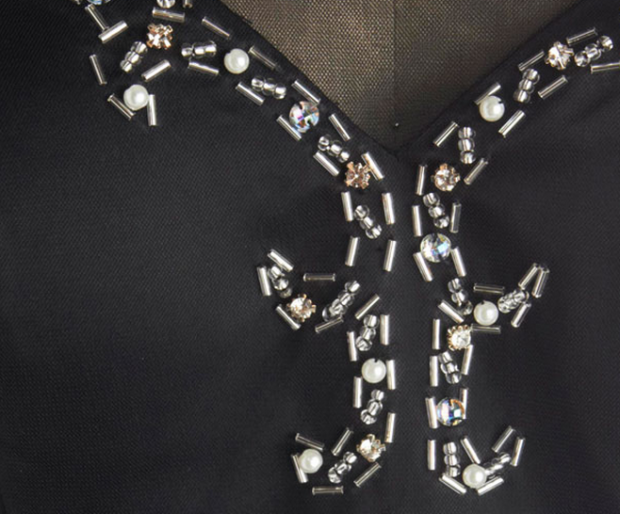 Photo from Modcloth.com
I looked at Etsy, Joann's, Fire Mountain Gems, and Sewfisticated and ended up cobbling together a nice selection of the necessary beads. If you look at the closeups you'll see that there's bugle beads outlining the curlicues and then inside them, it alternates one larger bead and three small seed beads. There seem to be three types of larger beads that are randomly alternating: pearls, montee rhinestones, and some sort of faceted bead. I had some pearls left over from a previous project and for some reason Sewfisticated sells 20g bags of 1/4″ bugle beads for $0.49 so those were easy. I decided to use bicone Swarovski knockoffs from Joann's and then found these guys on Etsy.
The dress itself was pretty easy to put together but I got a little too excited and sort of jumped the gun and put the bottom half of the dress together before I actually bought the chiffon for the top bit, which meant that that was much more difficult to attach. Whoops. It worked out though! I just ended up making some bias tape out of the chiffon (SO much fun, guys) and reinforcing the heart-shaped neckline with it to conceal where the chiffon top attached.
Anyways, I'm incredibly relieved that I managed to get it done in time! My actual birthday was on Wednesday (27 – yikes!) but a super busy week means we're doing celebrations tonight instead.
Have a lovely weekend, everyone!