I've been a little absent lately, as I've spent the past week being distracted by this gorgeous monstrosity (which you may have already seen if you follow me on Instagram).
Those of you who have seen Firefly will recognize Kaylee's layer cake dress from the episode Shindig. This dress has been on my to-do list for absolutely AGES (according to my sketchbook swatches, since 2007 at least!) and it feels amazing to finally be doing it. I'm planning to wear it to PAX East in April, which gives me a good six months to figure out that damn mandarin collar.
For those of you who've not had the immense pleasure of watching this show, go do it now. And this is what the dress looks like.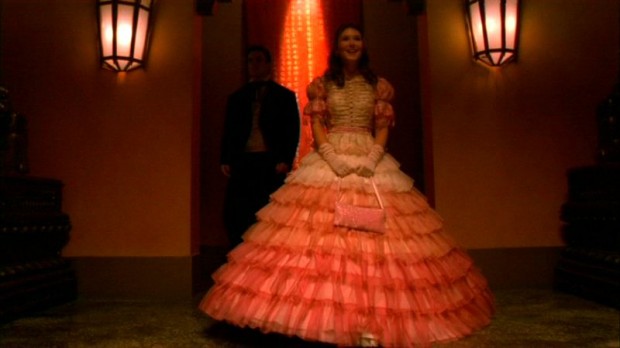 Yes, it's massive. Eight layers of fluff on the skirt plus a peplum on the top. And puffed sleeves!
I've started with the skirt, since it's a lot of work but actually really easy other than the math. It's been my break from the traumatizing experience of learning to match plaids. More on that later.
I bought 45″ poly chiffon in pink (5 yards), peachy pink (4 yards), and super pale pink (2 yards). I think technically it's supposed to be white but it just looks too contrasty so I'm going with a pale pink. I also got 7 yards of tulle and 4 yards of some kind of super lightweight cotton/poly blend for the skirt base. Most people's versions that I've seen have made an entirely separate ruffled skirt to wear under the chiffon skirt, but realistically, I don't see wearing two ruffle skirts plus a hoopskirt being all that much fun so I'm going to see if I can get away with just the one skirt, hence the tulle.
The base skirt is made up of five panels, 36″ wide at the bottom and 45″ long, French seamed. Currently, I've sewn down the three layers of pink and one of the peachy ruffles, as well as the four layers of tulle that go under them. Four more to go, and then onto the top!
And yes, I'm definitely bringing a little bag of strawberries with me to PAX as a prop.