I definitely don't claim to be any sort of expert at manipulating patterns or mixing them together, but I did want to share some tips and tricks I've picked up, as well as some of my favorite patterns to mash together. If anyone else has suggestions or tutorials to add, please leave a comment and share with the class!
*Just a note, this is not a comprehensive list of my favorite patterns, just the ones that I tend to gravitate toward when I'm doing specifically copycat projects!
Patterns:
1. Megan Nielsen: Darling Ranges – This pattern will always have a soft spot in my heart because it was the first indie pattern I bought, and I love how Megan designs not only clothes, but patterns. As someone who had only ever sewn historical/fantasy garments, sewing something that I could wear out in public was entirely new to me, and this pattern was the perfect first project for a not-quite-newbie. I've made several of these already but every time I see a cute button-up dress I think of making it using this pattern and only minor adjustments.
2. Burda 7739 – This is probably my favorite pattern. It's so simple, the fit is perfect on me, and it's SO versatile. It's basically the perfect high waisted tank dress that comes with adorable sleeves and a pre-drafted collar. I also love the skirt that comes with it, since it comes with pockets and is the perfect amount of flowy and gathered without being excessive.
3. Colette Laurel – I just bought this pattern but so far I love it. It's your (very) basic shift dress with endless options for variations. I haven't quite finished my first one but I already love it. I lengthened the sleeves and added pleats in the front to give it more shape. I do recommend doing a muslin because I had to take mine in on the sides, as well as lower the armpit area by an inch or two. Quick note: Someone left a comment asking me to do a quick sketch of how I drafted the pieces for my Porter dress copycat. I had a whole thing sketched out before I realized that Laurel would be the perfect pattern base for copying that dress! Sadly, I made that dress two weeks before I actually bought my copy of Laurel, but it would've been perfect. From there, just cut a line down the front for the buttons and I used this method (except instead of a zipper, I added buttons).
4. McCall's 6647 – I haven't actually used this one yet so I'm not totally sure why I'm including it on this list, except that it has a great back cut-out that I'm highly optimistic will be a good foundation pattern for all of the back cut-out dresses I keep pinning. I'll come back and update this once I've actually tried it.
5. Burda 7309 – I need to make myself a note on a giant neon post-it and attach it to this pattern. I basically use this pattern as an add-on to Burda 7739 if I want something to have a longer bodice. That's all. The sleeves are oddly shaped and I have been far too fearful of looking like a potato sack to attempt the included skirt. I keep meaning to try the collar but haven't gotten around to it. But anyway, I only ever use the bodice on this one and it works perfectly with 7739's sleeves and skirt (or even Simplicity 1873's skirt!).
6. McCall's 6646 – I've only used this one once and I sort of hacked it to bits to make my pleats, but as a sweetheart neckline, the shape of the dress is lovely. If you search "sweetheart" in the dress section of Modcloth, you could pretty much make anything listed with this pattern so I had to include it.
7. Simplicity 1873: This is my second favorite pattern, although probably my most used one. Everything about it fits absolutely perfectly and I love it to bits, but the skirt is an absolute nightmare of pleats that seem to go every which way while you're pinning, but then when you're done it all makes sense and you have a lovely pleated skirt that looks fancier than just regular pleats. I highly recommend this one. The pictures on the pattern sleeve make it look like a special occasion dress but I've made all kinds of dresses (and even a skirt!) with it and it's worked great with all kinds of fabrics.
not pictured:
Colette: Sorbetto – I had to include this pattern because it's a free download and so customizable. The armholes are teeny on me so I always end up having to alter that a bit but there are so many different things you can do to this pattern. Add a collar, slice down the front and add buttons, add long sleeves, add puffed sleeves, do some color-blocking, take out the pleat, gather the pleat instead of pleating, etc. Run with it.
Burdastyle 02/2011 #101 – This is another one of my favorites because sometimes you just want a nice side zip and some cute cap sleeves. The fit of this one is a little off on me (I end up taking the darts in a little more and taking the sides in a bit as well, and then lengthening the bodice by 1-2″) but I love that it's so basic and just screaming to be played with. I made one with an attached collar and I definitely want to play around in using different kinds of fabrics.
Tutorials:
Gertie's peter pan collar drafting: Part 1, Part 2, Part 3 – I don't usually like watching video tutorials (although I will readily admit that they are usually far more helpful for learning purposes) but I sat through all three videos and it was 100% worth it. Gertie is amazing and this is how I've done all my self-drafted peter pan collars (well, minus the fancy tracing paper and the French curve, which I keep meaning to buy).
Megan Nielsen's FBA – Ok, I admit I still haven't sat down and tried to figure this out. But this tutorial made it almost make sense just by skimming, so I'm going to post it here.
Megan Nielsen's SBA – And for the smaller-busted ladies.
How to make a bow – I think most of us probably know how bows work, but this is my favorite method for getting the juiciest, neatest (and hugest) bows.
Peplum top out of a dress pattern – Because peplum tops are awesome and I really hope the trend lasts.
Slash opening – I feel like this is just helpful to know. She uses it to illustrate how to add a zipper but I've used it for buttons as well.
Patterns I'm using: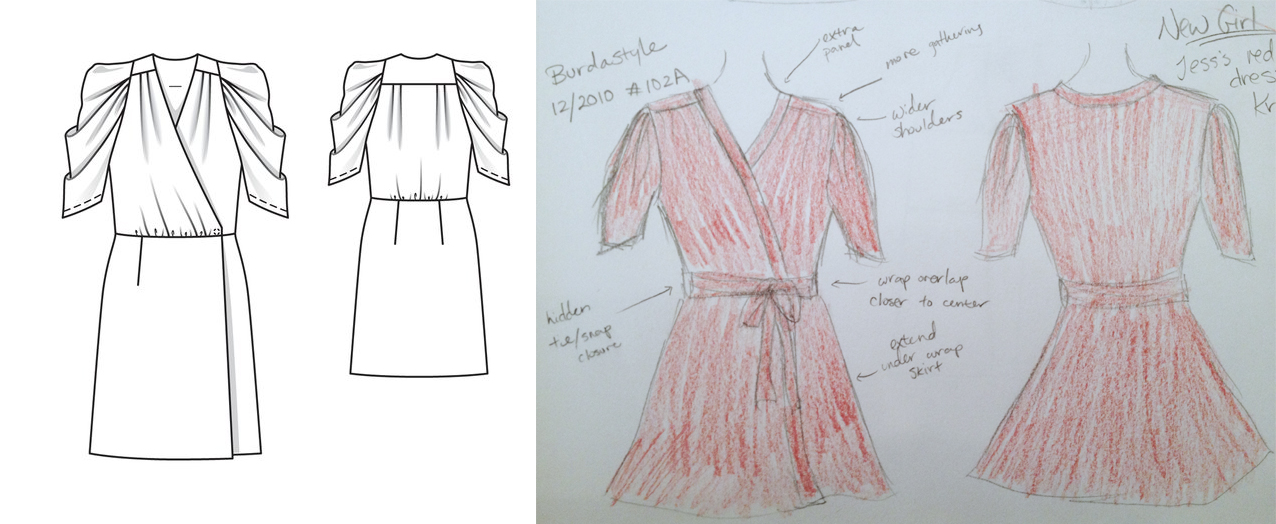 Jess dress – I actually found a Burdastyle wrap dress pattern structured very similar to this one, which I snapped up immediately a few months ago. There are definitely areas where it needs to be tweaked but I think it'll work great. I'll have to reshape the sleeves a bit, widen the shoulders, add a strip along the neckline and down the sides of the wrap skirt, widen the wrapped bit, and flare the skirt a bit more. I'm also debating making the back all one piece instead of two like the pattern is. It sounds like a lot, and it'll take a bit of trial and error, but I think it'll work great.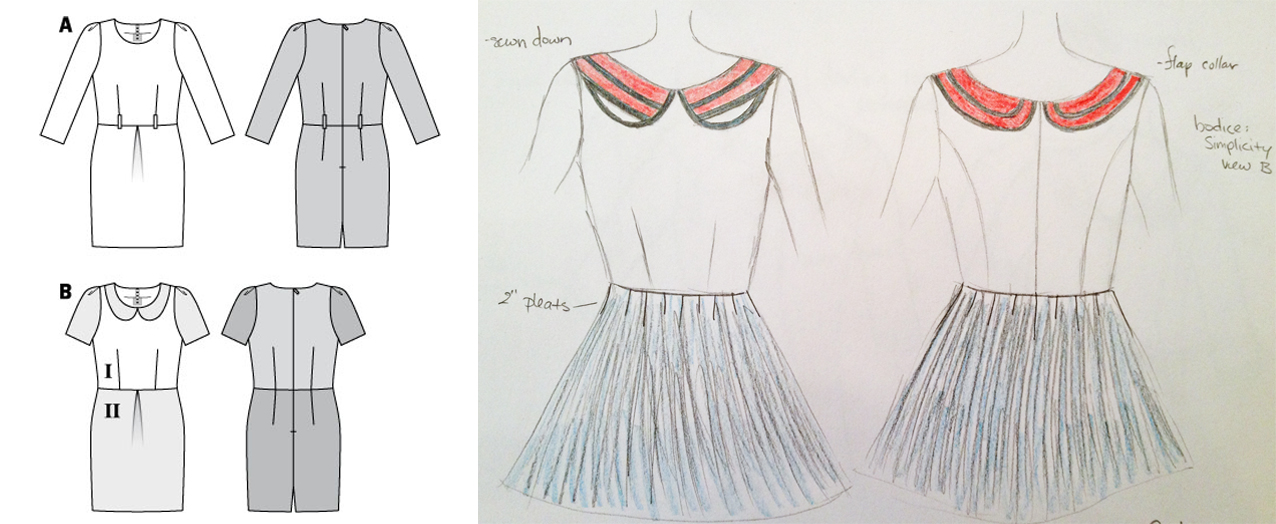 Dear Creatures: Isabel – I'm using Burda 7309 for the bodice on this one, and then I'll have to play around with the cutouts. I currently have two ideas. I'm either going to draft a collar as a flat piece (treating it as though it were just part of the bodice piece), or to draft it as a collar and then sew it down so it doesn't flap. Definitely going to have to play around with this one. For the skirt, I'll just do regular pleats from two rectangles.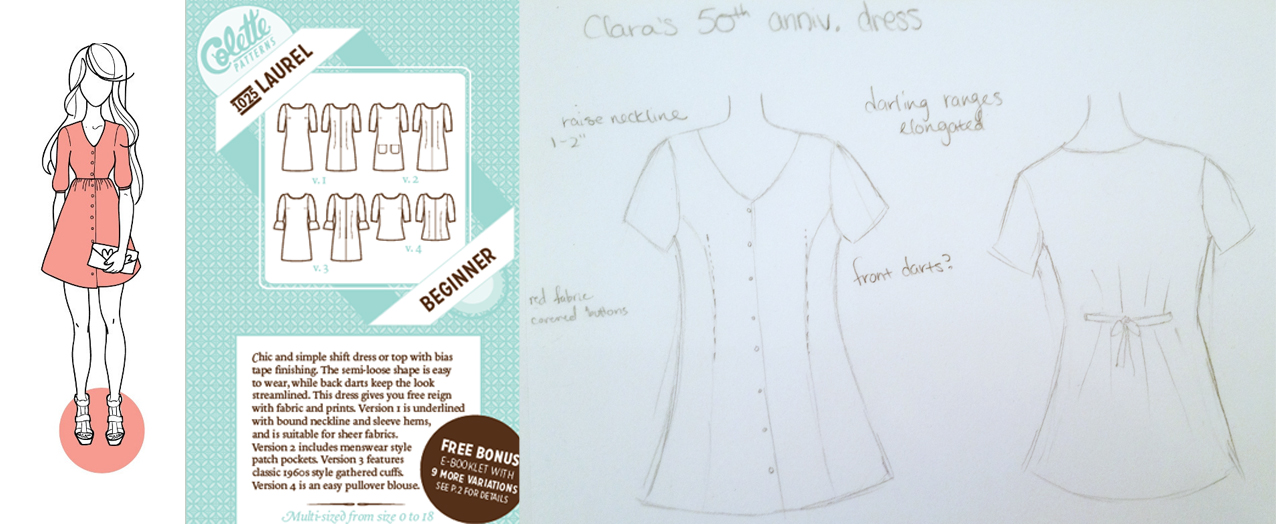 Clara dress – This one's going to be fun. I'm going to use the Darling Ranges pattern and possibly mix it with Colette's Laurel for the back. I'll have to extend the bodice pieces of the Darling Ranges pattern and probably do an elastic waist. The original dress has princess seams but I think I'm going to just go with darts.