dress: self-made // shoes: Clarks
Actually this dress was pretty simple to put together, despite the collar taking two tries. The post title refers to Clara Oswald, the Impossible Girl. Yes, I'm nerding out, Doctor Who style.
Sometimes when I watch TV shows or movies I admire costumes and whatnot and it's not until later that I go back and think "Hmm that one would be nice to make someday if I run out of projects.." And then there's the costumes that sort of kick you in the butt and cling to your creative centers whining "Make meee IMMEDIATELYYYY." Ahem. This was one of the latter.
I'd been searching for a fabric for this dress (and one other one, which I FINALLY* found and is being shipped to me soon!) and couldn't find a single thing remotely close to it anywhere.
The original dress looks like this: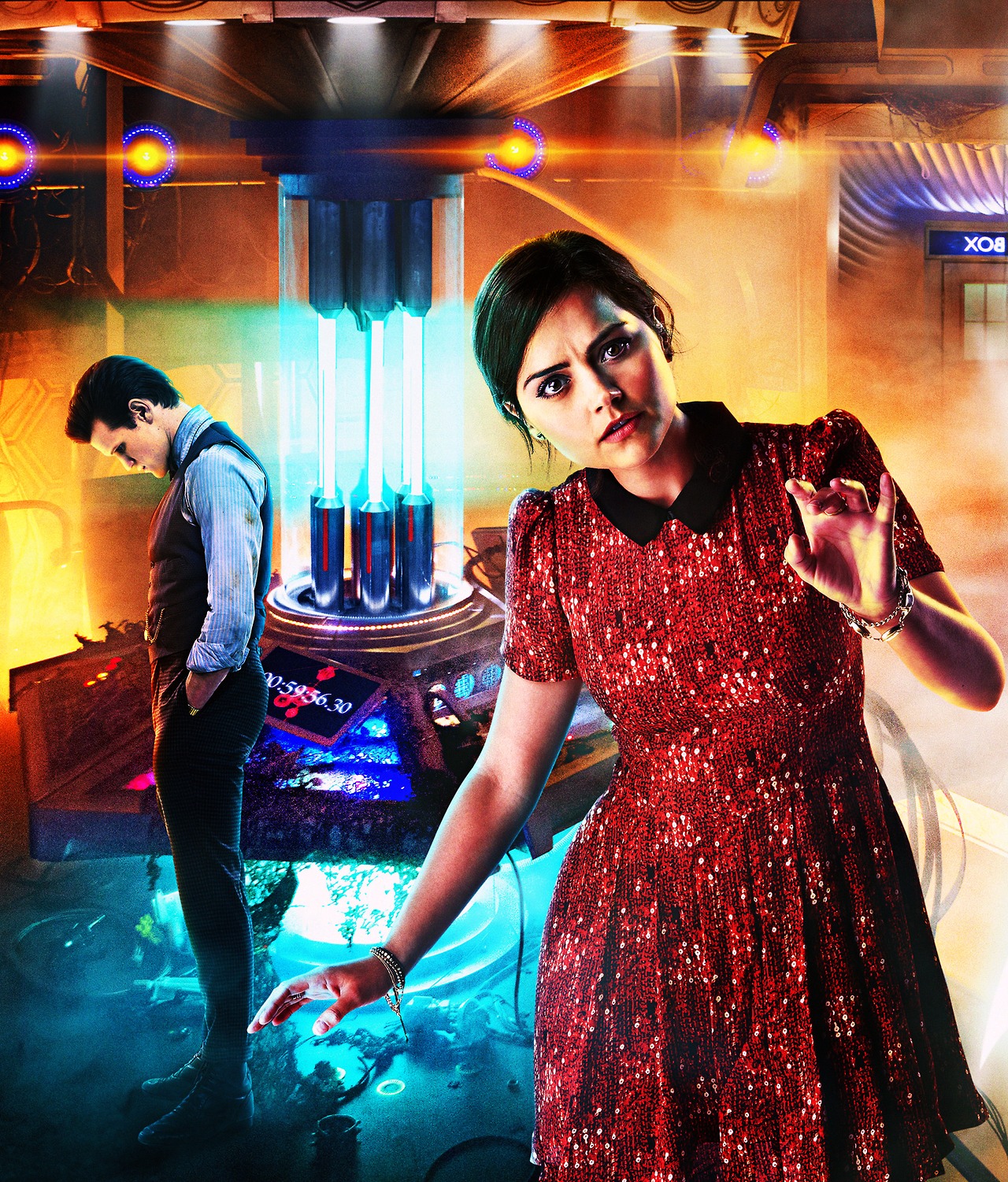 It's a Vaudeville and Burlesque dress with a collar added. But what the hell do you call that kind of a print?! I searched endless combinations of "red floral geo", "red dotted geo", "red floral abstract", just "red" etc. on eBay, Etsy, fabric.com, and even Jo-ann and found absolutely nothing that looked remotely similar. Le frustration.
But then I went to my local fabric store last week and there it was! Just sitting there on the shelf waiting for me. I have absolutely no idea what this kind of fabric is called but it's a slightly textured chiffon-esque fabric but it's almost opaque and slightly thicker than chiffon would be. Crepe? No idea. Anyway, it had wide horizontal red and magenta stripes so I figured I could just cut the pieces I needed out of the red stripes and if I really needed to, I could dye the magenta bits redder.
I immediately knew I was going to use Burda 7309 for the top, but while the bodice turned out beautifully, the sleeves were a bit wonky. Note to self: B7309 has crappy sleeves. So I re-cut them in Burda 7739 and they turned out perfectly!
For the skirt, I cut out a 54″ wide by 20″ long rectangle and pleated it (using my standard math-idiot eyeballing method) to fit the width of the bodice. I lined the bodice, but decided not to line the skirt and just to wear a slip or another skirt under it because the fabric is so gorgeously flowy and I didn't want to ruin that. Also because of lazy. I also hemmed it like 4″ so the skirt's on the shorter side.
The collar was surprisingly simple, once I realized that I had to match the length of it to the circumference of the dress neckline. I used this tutorial and just added one snap closure to the back of the collar and one to the front bit (with the opposite snaps on the inside back of the dress and inside middle front of the dress respectively) so it would stay put. I'm contemplating just sewing the collar in because realistically I think the collar makes the dress and I don't see myself wear the dress without it.
Basically, I want to live in this dress. Unfortunately, I wore it out last night and around today and it was in the high 80s and low 90s and I almost passed out several times. Totally worth it though. And now I have an outfit to wear whilst I watch the 50th anniversary episode. By myself. In bed. In November.
Whatever. Dresses are cool.
*Apologies for all the caps. I hate caps. I'm just that excited.