It's been a teensy bit busy around here but I've managed to squeeze in some fun stuff.
My roommates and I did Secret Santa a few nights ago and it was a great success! We had some infused vodka drinks and chocolate kisses and squeed over our new toys.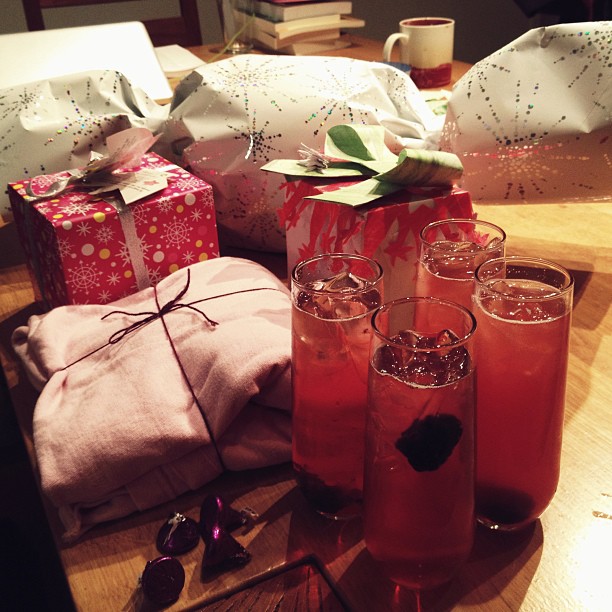 My one roomie and I got each other as Secret Santas, and then the other two got each other as well, which worked out strangely nicely. I bought an octopus ring a while in an attempt to fulfill my dream of always wearing tons of rings (I have no idea why) and she remembered and bought my octopus an owl friend.

(Excuse the wrinkles, I clearly need to learn to moisturize..)
She also got me this adorable little guy to put my rings on. 🙂 There was also a flower ring that hadn't come in the mail yet and I forgot to snap a photo of it. Whoops!
I couldn't resist squeezing in at least one Christmas knit so I made her a pair of fancy mittens. Knitting beads in was surprisingly simple! (I used the dental floss method, which cracked my dental school boyfriend up.)
Andd then we went to see the Hobbitses, which pretty much means I sobbed into my sleeve for three hours. (I may have mentioned that I was the weird girl in high school who wore elf ears to school and Lord of the Rings is the reason I learned to sew.)
Tonight I will *hopefully* finish up my last paper and then in the wee hours of tomorrow morning (read: 4am) I will be traipsing bleary-eyed off to the airport to go home for a few weeks! Hopefully once I'm settled I'll be able to start posting more regularly.
In other news, I'm usually great at packing light but right now I love all my clothes and I'm having such a hard time not packing everything! Someone please explain to me why eight dresses and six pairs of shoes is overkill for a two week trip.